Classes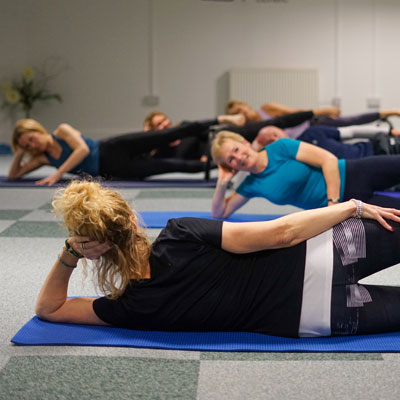 Studio Classes - Pilates Matwork
The exercises are performed primarily on a mat and predominantly lying down, using the body's own weight for resistance. However, we do incorporate an element of standing and seated work. The original matwork sequence devised by Joseph Pilates consisted of just 34 exercises. Some of these have been modified to suit the everyday person and the variety and number of exercises have evolved and increased. In a situation where an exercise may be unsuitable for a client, the instructor will adapt the movement accordingly or offer an alternative.
Each class lasts for an hour and works the entire body. We often utilise small equipment such as weights and resistance bands. Most equipment is provided but for health and hygiene reasons we ask that you bring your own mat and band. There are a maximum of 12 clients in each class and the format of the session is relaxed and friendly. You should leave feeling rested but revitalised.
Please note that before attending your first class you will need to complete a medical questionnaire.
Contact us
to book or find out more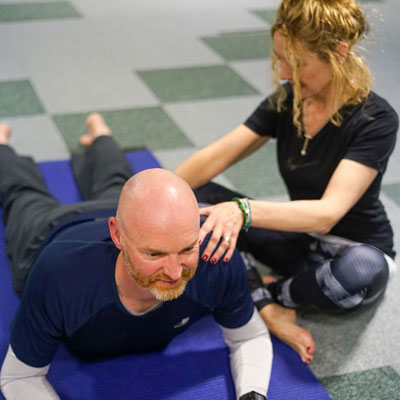 Private Pilates Tuition
There are many reasons why some people prefer to have individual tuition. If you suffer from a chronic condition, it is advisable to have one to one classes tailored to your needs or to introduce your body to Pilates gently. It is ideal for those who don't feel comfortable in a group situation and prefer to exercise alone.
These sessions take place in the studio in Wrexham, at a time agreed with yourself and the instructor.
During the first session, you and the instructor will discuss your needs and goals and devise a training program.
Contact us
to book or find out more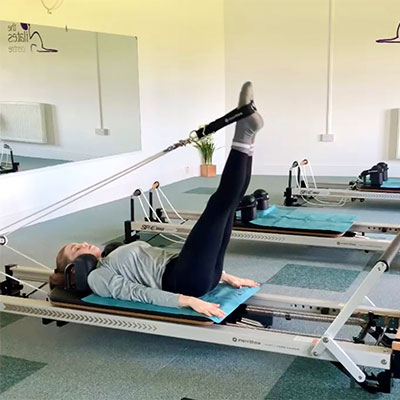 The Pilates Reformer
The reformer is an unusual looking machine that initially looks like something from medieval times! However, it is immensely versatile and provides finely tuned resistance that allows you to work precisely and efficiently, improving your alignment, core strength and flexibility.
Reformer Pilates is becoming increasingly popular, as it is generally more intense and more dynamic than mat based Pilates. It enhances your workout and helps identify and correct muscle imbalances. The repertoire of exercises is immense, providing much more variety than mat Pilates. In a nutshell, Reformer Pilates works more areas of the body than matwork taking your Pilates session onto another level.
Our reformer is the traditional Balanced Body studio reformer - not dissimilar in appearance to the original reformer developed by Joseph Pilates. However, it is much smoother and more comfortable. The carriage is attached to the frame by resistance springs which vary in tension, allowing you to tailor your workout. Pilates exercises are performed on your back, kneeling or sitting. There are over 500 exercises that can be performed on a reformer!
If you would like a taster session to see how the reformer can enhance your workout, get in touch with us.
Contact us
to book or find out more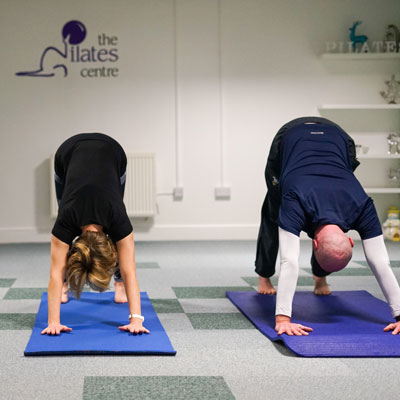 Yoga Classes
Our Yoga classes are mixed ability and anyone is welcome. Yoga is a great way to energise both the mind and body with strengthening and stretching movements. Classes vary from week to week with a mix of Yoga styles and you will be able to work at a pace that suits you.
Jane is passionate about Yoga and due to her style of teaching and ability to make the most challenging exercises achievable, her classes are very popular.
Contact us
to book or find out more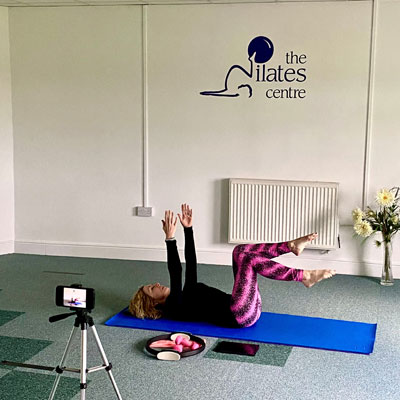 Online Pilates Classes
Whilst the studio was closed under Covid restrictions, we ventured into the realm of virtual Pilates classes. These proved hugely successful and although face to face classes have resumed, some of Cathy's studio classes go out via Zoom too.
These take place on Wednesday evenings and Saturday mornings. They run in blocks of four weeks, with a set price for that block, offering you the opportunity to attend all 8 classes should you wish. There is also the option to receive the recording of any of these sessions.
Contact us
to book or find out more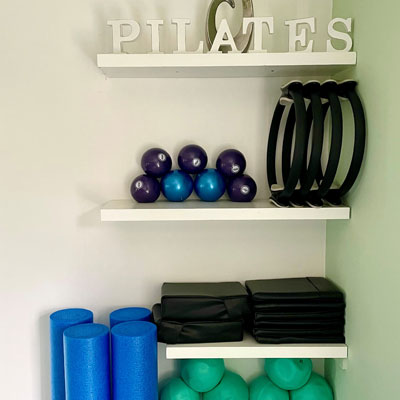 Getting started
The ideal way to embark on your Pilates journey is to sign up for our beginner's course. This is a five-week course designed for complete beginners to introduce the essential elements of Pilates. The format of these sessions is relaxed and informal, with basic instruction on the Pilates breathing technique, how to align yourself and engagement of your core muscles. Our instructors will correct and encourage you and move around the class to ensure that everyone has understood the exercise and is able to perform it effectively and safely.
Once you have completed this course, you should have a basic understanding of Pilates and be able to confidently move onto the mixed ability sessions. The beginners' courses run throughout the year, usually on a Monday evening.
Alternatively, you might prefer to book one or two private sessions to introduce you to the fundamentals of Pilates.
Contact us
to book or find out more
Timetable
Before joining a regular class, we recommend an introduction to the technique by signing up to our beginners' course or a few private sessions. When you are ready to move forward, you can join whichever class is most suited to your needs and ability.
Slide right to see full table as required
Time
Monday
Tuesday
Wednesday
Thursday
Friday
Saturday
Sunday
9.30 - 10.30am
Yoga
Mixed Ability Pilates
Mixed Ability Pilates
Mixed Ability Pilates
Mixed Ability Pilates
Yoga 9.15 - 10.15am
Chill out Sunday Pilates
10.45 - 11.45am
Mixed Ability Pilates
Mixed Ability Pilates & online via Zoom 10.30 - 11.30am
Breathing with Jane Chesworth 11 - 12noon (enquire for details)
6.30 - 7.30pm
Mixed Ability Pilates
Advanced Pilates
(6.15 - 7.15pm)
Mixed Ability Pilates & online via Zoom
Mixed Ability Pilates
7.40 - 8.40pm
Pilates Beginners Course
Yoga
(7.30 - 8.30pm)
Advanced Pilates
Please note that all classes must be booked beforehand and where possible paid for in advance
Contact us
to book or find out more